Whether you like it or not, you clicked this because you live in a small space.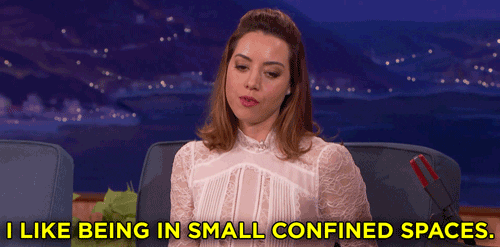 There are a ton of ways you can save space wisely when you don't have a lot to work with. To make it easier for you, we've made a list of our favourite hacks so you can use your space efficiently and make the most out of what you got!
1. Stackable storage
Stackable storage is a simple way to save space in a small area. Whether that storage solution is in a kitchen cabinet or even your fridge, it's important to take advantage of the height in your home!
Time to dish out
Photo: @KashmiriFoodie
Kitchen cabinets are the perfect place to use our KSP Space Logic Expandable Kitchen Shelf. This strong steel shelf expands up to 30″ making it great for storing extra dinnerware, canned goods, and cleaning supplies.
Wine not?
Water, soda, and wine bottles often take up a lot of space when stored vertically. Save space with this InterDesign Linus Stackable Bottle Rack. This clear plastic rack is stackable and holds up to three wine bottles, making it great for parties or organizing your pantry or fridge.
2. Clean up your kitchen counter top
Kitchens are a focal point in many homes and a cluttered counter top can make your space feel smaller and messy. We've got organizers to free up your counter and organizers that take advantage of the height in your space.
Spice up your life (from a drawer)
This InterDesign Linus Drawer Drawer Spice Rack is the perfect way to store your spices without taking up valuable space. This storage solution stores up to 12 bottles.
Hang in there
The KSP Hammock Banana Hanger is the perfect way to store your fruit on your counter top without taking up more space. Bonus: Did you know that storing bananas too close to other fruit cause the fruit to ripen faster? Hang in there! This will help your bananas away from other fruit to increase fruit shelf life.
3. Don't forget behind the door!
We aren't OVER these products. Make the most of your space by using the spots behind your doors. Whether that door leads to your bedroom, closet, or bathroom, over-the-door storage solutions organize without taking up more space. BONUS: All the items featured here require no installation, just hang the hooks over your door and you're done!
Drying rack
Forget about a clunky drying rack and get a Whitmor Laundry Basics Over-The-Door Drying Rack. These racks are a great space saving tool that  feature hooks on the side to dry dedicates or smaller items. The rack also folds up when not in use!
It's a shoe-in
This Whitmor Space Saving Over-The-Door Shoe Organizer* is the perfect solution to tucking your shoes out of sight. This metal unit stores up to 36 shoes with NO installation. Just simply hang it over the top of any standard sized door and you're done! *Available online and at selection locations. Click here for more info.
Hide your ironing essentials

Organize your ironing essentials with the Whitmor Laundry Basics Iron Caddy. The unit easily stores away your iron and ironing board without any installation!
4. AND over the (cabinet) door
We have storage solutions for cabinet doors, too! From over-the-cabinet-door solutions for garbage, plastic bags, or hair styling products, it's important to make the most of every space in your house.
You got this in the bag!
Keep those pesky plastic bags out of the way with the KSP Linear Over the Door Bag Holder. The sleek design features an opening so you can remove one at a time! Just hang over any standard sized cabinet door.
Bathroom hair care
Organizing your hair styling tool with the help of the Interdesign Classico Over-Cabinet Hair Care Station. The unit features 3 main compartments that can fit most hair dryers, straighteners, and curling wands while the bottom shelf adds for additional storage!
Don't let the trash talk
Hide your trash with the help of the KSP Linear Over the Door Waste Basket. The sleek and simple design is the perfect replacement to a regular garbage bin.  Great to keep your garbage tidy and out of sight in your small space.
For more over-the-door/cabinet door storage ideas, click here to see our curated page
5. Vanity sanity
A lot like your kitchen counter top, organizing and clearing up space on the top of your vanity will make your space feel bigger and less cluttered. We have a tons of great items to organize your makeup and other bathroom essentials.
Clear acrylic drawers
Photo: @heartsandkrafts
These acrylic drawers from InterDesign are the perfect way to neatly display your everyday makeup and essentials on top of your vanity without taking up much space. The clear look also gives the illusion of more space, too! Our InterDesign Clarity collection come in a variety of shapes and sizes to fit your needs.
Glass with class
Display and organize your cotton pads, swabs, and balls neatly with the help of the KSP Glacier Glass 3-Layer Jar. The stackable storage unit is made of glass for a sleek and clean look.
6. Keep your kitchen in-"sink" 😂
Free up some space by using your sink as a storage place! Whether you're drying plates or storing your dish sponge, it's the perfect way to use up space when it's not in use!
This (sink)WORKS
The InterDesign Sinkworks Silicone Sink Organizer is a perfect product to clear up space in your kitchen. Hold your dish sponge on one side of the silicone caddy and place cutlery on the other! Ideal for double sinks.
Collapsible dish rack
Bust out your KSP Tubby Collapsible Dish Rack only when you need it! This unique and collapsible design is a perfect way to dry your dishes in your sink and store away when not in use. Comes in red, blue and grey!
 7. Multipurpose products
When you live in a small space, it's important to invest in items that serve more than one purpose. Keeping this in mind allows you to play around with the space and products you have and gives you options on how to make the most of it!
Lids to pans
Organize your kitchen lids and pans with the KSP Mesh Pan-Lid Organizer. The rack is made out of a durable metal and features indents for your lid handles and wide sections perfect for cutting boards, baking pans or fry pans.
The pressure is OFF
Appliances tend to take up valuable retail space on your countertop or in you kitchen cupboards. Investing in one appliance that has a variety of settings and features is an easy way to free up some room in your small space. This Starfrit 16 Function Programmable Pressure Cooker cooks rice, yogurt, cake, steam or sauté your vegetables, and much, much more! Multi-purpose for the win!
*You, after realizing how much more space you have now*
Have a small space hack?
Be sure to share how you make the most of your small space with us, too! Tag us @kspstuff on Instagram or get more inspiration on facebook.com.kitchenstuffplus.
Want more hacks? Check out these 7 simple ways to maximize space in your bathroom!