Get ready, fridge #goals – we're making room for snack time and helping organize the whole kitchen to include snack stations!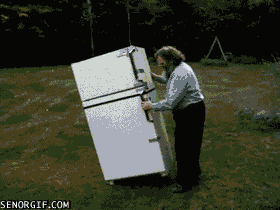 If you have children, you're aware that they're almost always asking for a snack, especially when they get home from school. That's why we're breaking down how to make it easy for your littles ones (and you) to grab a healthy snack.
1. Use a fruit basket
Who says fruit baskets are just for fruit? This 2-tier basket doubles as a snack holder. Fill it with rice treats, chips, fruit cups, yogurt, and other small snacks so little hands can easily take what they want.
2. The key to a smart snack station
Kids want what's in front of them. Keep the water in your snack station at their eye level as a reminder to drink. This water bottle holder holds up to 9 bottles of water.
3. Keep your snack station spinning
Help little hands reach the snacks at the back of your snack station by putting them on a turntable. This helps make sure nothing gets forgotten. (Except for maybe those super healthy granola bars that "somehow" fell behind 😉).
4. Extra large storage for extra large snacks
This extra large bin holds juice boxes perfectly, but it can be used to hold most large after-school treats.
5.  Keep your snack station organized
This clear bin is smaller than the one above and is great for keeping smaller snacks, like fruit or pudding cups, organized.
6. A storage rack for a station of snacks
This storage rack is a great addition to any snack station because it adds extra storage space exactly where you need it. And with 4 shelves, you can split up snacks exactly as you like (salty vs. sweet, anyone?).
7. Airtight & stackable food containers
We're obsessed with these OXO Good Grips Pop containers, and rightfully so! Airtight, stackable, and space-efficient, they fit perfectly in any snack station.
Snack Stations #MadeEasy
The Kitchen Stuff Plus back to school sale is on now! And for a limited time, stock up and save on your snack time must-haves, like the popular OXO Pop Canisters!
Looking for more organizing ideas? Check out these 5 ways to organize your fridge for back to school!